FIRST NATION MINISTRIES, INC.
P.O. Box 30055 Portland, OR 97294
Phone: (503) 408-2391 Fax: (503) 256-8560
Issue 13 Visits No. 38 to 43
September 2008
BROTHER DON SAYS: Hello there, Neighbor. Praise God! What joy to have you as a teammate, especially these past 20 months since January 1, 2007, when circumstances beyond our control changed our outreach to reservation Indians. Well meaning friends advised "it's time to quit." Some suggested we go hunting and fishing, take a tour to the Holy Land or perhaps a cruise on a luxury liner. As I wept and prayed before God, He spoke peace to my heart and assured me of His call on my life to win Indians to Him. His "still small voice" directed me not to fight, assured me that He knew all about it, and that He would handle it. His instructions were most clear, "Get a pickup and start over and I will bless you, give you strength and provide your needs." This I have done to the best of my ability with the help of you faithful teammates. How faithful is our God!
In 20 months we have made 39 visits with the pickup and trailer, and 4 visits with the beautiful 99 Western Star and 48 foot semi-trailer. We have the open doors and the loads for another big rig load in September and yet another one in October. To God be all glory and praise! And thank you, Teammates, for making it possible.
(I share this article that was sent in to our office)
PAUL HARVEY SAYS: I don't believe in Santa Claus, but I'm not going to sue somebody for singing a Ho-Ho-Ho song in December. I don't agree with Darwin, but I didn't go out and hire a lawyer when my high school teacher taught his Theory of Evolution. Life, liberty, or your pursuit of happiness will not be endangered because someone says a 30 second prayer before a football game. So what's the big deal? It's not like somebody is up there reading the entire book of Acts. They're just talking to a God they believe in and asking Him to grant safety for the players on the field and the fans going home from the game. But it's a Christian prayer, some will argue. Yes, and this is the United States of America, a country founded on Christian principles. According to our very own phone book, Christian churches outnumber all others better than 200-to-1. So what would you expect – somebody chanting Hare Krishna? If I went to a football game in Jerusalem, I would expect to hear a Jewish prayer. If I went to a soccer game in Baghdad, I would expect to hear a Muslim prayer. If I went to a ping-pong match in China, I would expect to hear someone pray to Buddha. And I wouldn't be offended. It wouldn't bother me one bit.
But what about the atheists? is another argument. What about them? Nobody is asking them to be baptized. We're not going to pass the collection plate. Just humor us for 30 seconds. If that's asking too much, then bring a Walkman or a pair of ear plugs. Go to the bathroom. Visit the concession stand. Call your lawyer! Unfortunately, one or two will make that call. One or two will tell thousands what they can and cannot do. I don't think a short prayer at a football game is going to shake the world's foundations. Christians are just sick and tired of turning the other cheek while our courts strip us of all our rights. Our parents and grandparents taught us to pray before eating; to pray before we go to sleep. Our Bible tells us to pray without ceasing. Now a handful of people and their lawyers are telling us to cease praying. God help us. And if that last sentence offends you, well … just sue me. The silent majority has been silent too long. It's time we let that one or two who scream loud enough to be heard that the vast majority doesn't care what they want. It is time the majority rules! It's time we tell them, you don't have to pray; you don't have to say the pledge of allegiance; you don't have to believe in God or attend services that honor Him. That is your right, and we will honor your right. But you are no longer going to take our rights away. We are fighting back, and we WILL WIN! God bless us one and all … especially those who denounce Him. God bless America, despite all her faults. She is still the greatest nation of all. God bless our service men who are fighting to protect our right to pray and worship God. 2008 will be the year the silent majority is heard and we put God back as the foundation of our families and institutions. KEEP LOOKING UP.
The Work at Wounded Knee
There are 3 lady missionaries that are like sisters to this old preacher! I met them many years ago when they were in Bible school preparing for the work God had called them to. Cecelia Spotted Bear, Cindy Antelope, and Kate Kindle have been outstanding handmaidens of the Lord. They have never wavered but stayed on course leading the way to Jesus among their own people. They are all on the Pine Ridge Reservation in South Dakota. We are privileged to have been able to make 3 visits to each of their chapels with food, clothing & Bibles. Since January 2008 we have been able to send a bit of financial support to each of them each month. With your help and God's blessing it will increase. Les and Shirley Phipps took the well loaded Dodge and trailer to South Dakota for us. The Phipps' have been long time friends and helpers to each of these ladies so it was a blessing for all to see each other.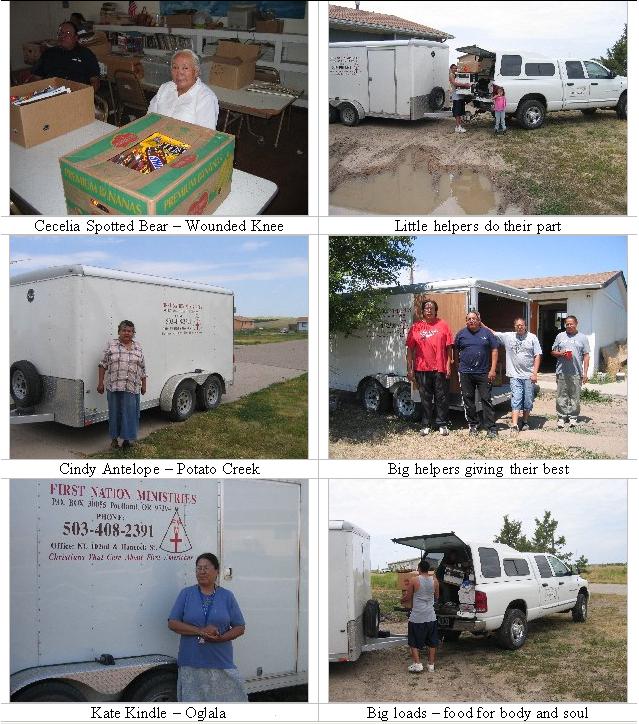 MISSION VISIT #41
On Saturday, August 2, 2008, First Nation Ministries met ROAR. This new organization, "Reviving Oregon's Amazing Roots", was born in the heart of Evangelist Aaron Auer as God moved on his heart and awakened him to Oregon's wonderful spiritual heritage! He started at the statue of the circuit rider at our State Capitol. He discovered that the founding fathers and spiritual leaders in 1844 banded together to praise and thank God for bringing them safely to this beautiful spot. They continued a summer assembly or camp meeting year by year and in 1891 they built a tabernacle on land donated by the Turner family which is still used to this present day. What a joy and honor to be invited to share a bit of God's working among the Indians and to receive their blessing and support for First Nation Ministries.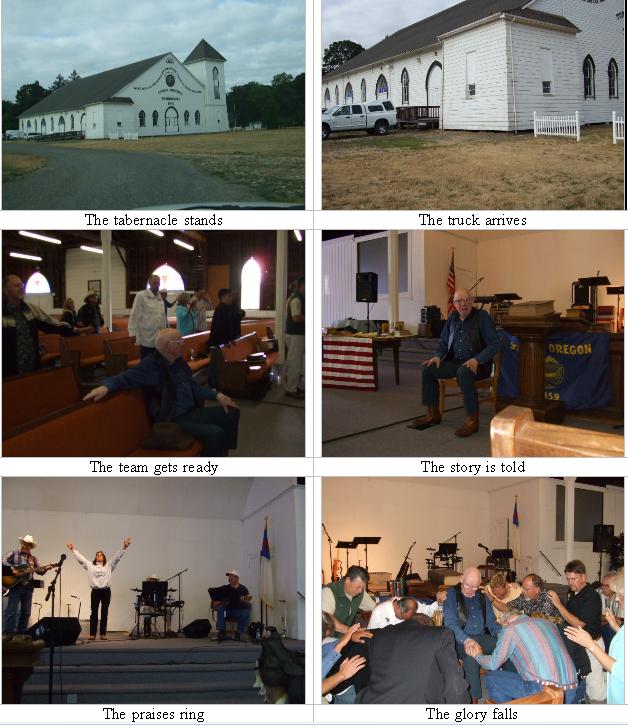 MISSION VISIT #42
Saturday, August 9, 2008, First Nation Ministries' big rig was parked at the Rolling Hills Community Church just off of I-205 at the Stafford Road exit. Pastor Dale Ebel and his fine people gave us the privilege of using it as a collection center for our Celilo Indian Project. The goal was for God's people to help make certain that each of the fifteen new houses were comfortably furnished with adequate beds and all items that make a house a home. As I felt the heart burden for this, Brother David Gowan introduced me to a fine Indian Minister, Dale Wheeler, who had the same burden. He visited each house and took a tally of the families and their needs. We put out the call on radio and news papers and what a wonderful response. We thank each and every one of you for your help in making it all very successful. Praise God!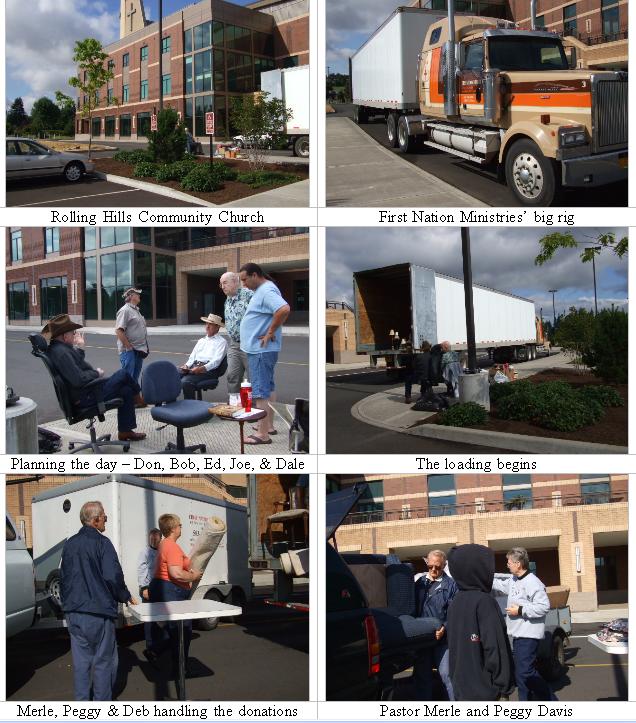 MISSION VISIT #43
One week after collecting the Celilo load, Saturday morning, August 16th, broke bright and clear. A convoy of the big rig, two pick-up trucks and four cars headed east up the beautiful Columbia River Gorge 97 miles to one of the oldest Indian villages in the United States. Archeologists have dug ancient ruins on this site that show native fishing activity that predates the birth of our Lord Jesus. These people were very religious and faithfully honored the Creator. Prayer and ceremony were always an important part of their lives. To their descendants, this village is holy ground! In January of 2007, in obedience to the pull God placed on my heart, I visited Celilo with food and Bibles. I found the people hungry and destitute. In tears, they welcomed me and I heard praise to God from their lips. Several have found Jesus as Lord and Savior. It is very evident that God has a plan for these people. Preaching alone will not suffice. We must practice the love of Jesus by feeding the hungry and clothing the naked, and by doing this He will draw all men to Him.