FIRST NATION MINISRIES, INC.
P.O. Box 30055 Portland, OR 97294
Phone: 503.408.2391
MARCH/APRIL ISSUE 32
HELLO THERE, NEIGHBOR!
We have just celebrated Easter; the celebration of our Risen King! "Do not be afraid, for I know that you seek Jesus who was crucified. He is not here; for He is risen, as He said." (Matt. 28:5, 6). If we stop at the cross and don't continue on to the tomb, we miss the core of Christianity. Without the resurrection, our faith is dead; the empty tomb represents victory and eternal life for every Christian. Yet, while we are here, we are not living as carefree tourists. We're not vacationing our way to Heaven. We are soldiers of the cross on raw, pagan soil. Everywhere around us the battle rages! Christ died not only to give us victory over sin, but to equip us for the fight. First Nation Ministries is able to continue the fight against darkness on the Indian reservations of America because of your prayers and support. Thank you so much.
Since our last newsletter, First Nation Ministries has made a trip to McDermitt, Nevada, two trips to White Swan, Washington, and a trip to St. Ignatius, Montana. We only have room to tell you about 2 trips this month, but we'll tell about the other trips another time.
White Swan is hurting as you can see from the pictures. What a joy and privilege to help ease their suffering by taking them food, clothing, furniture, linens, etc. What a wonderful opportunity to tell them of Jesus' love. Theodore Hart is our new point person there; a young Yakima/Nez Perce man who was saved from years of alcohol abuse and living on the streets of Portland and who has a heart for his people at White Swan. Catch him on our radio broadcasts.
And then, what a glorious trip to St. Ignatius! After a flawless trip over, what joy to set up the brand new Tuff Shed for Bernie Lovell, our point person, to use. It was a model on the sales lot so it has many extras like an extra wide door, a window, built in shelves and counters, and a skylight. It's many times bigger than what she was using before, and it can be locked. Thank you so much, Bridal Veil Community Church, for purchasing this shed for us, for your love, and for being a missionary minded congregation. God bless you!
Keep us in your prayers, Teammates! Our busiest travel season is coming up and you know how high fuel costs are, but we are trusting in God to provide our every need.
Your old missionary brother,
Don Cline

White Swan, WA
We received a phone call from Larry and Vickie Dietz asking if we could help with hauling food and furniture to White Swan, Washington on the Yakima Reservation after a terrible fire destroyed 21 homes. Of course we were happy to and so we went immediately to load the Dodge Ram and Wells Cargo trailer with what had been collected. Our new point person to White Swan is Theodore Hart. He is a Yakima/Nez Perce Indian who cares deeply for his people and we're excited to have him on the team. Les Phipps, Theodore (whom we call "Chief"), Jeff Phipps and Larry Dietz headed up north as soon as they could. What total devastation! As you can see from the pictures, the people who were burned out have nothing left. The Bureau of Indian Affairs is letting the people fix meals in their basement and the Jeld-Wen Corporation is letting them store donated furniture and appliances in their warehouse. It is our understanding that the Tribe has nothing for these people nor does the State of Washington, so they are appealing to the Federal Government for help. In the meantime these folks are staying with friends and family and several Christian organizations have gotten together and rented a small motel for people to stay in. Our "consultant", Steven Scholz, contacted his old friend, Bill Gander of Standard TV & Appliance, and got 6 beautiful refrigerators to be donated to the White Swan Natives. Praise God for people who care enough to give food, clothing, and appliances, and for businessmen like Mr. Gander who are willing to "lay up their treasure in Heaven" by helping some needy people on earth. May God richly bless all of you who have helped! We're still taking loads up, so if you want to get in on the action, so you can get in on the blessing, give us a call at the office (503.408.2391) and we'll be happy to pick up your good, clean, working donations and give you a tax receipt in exchange.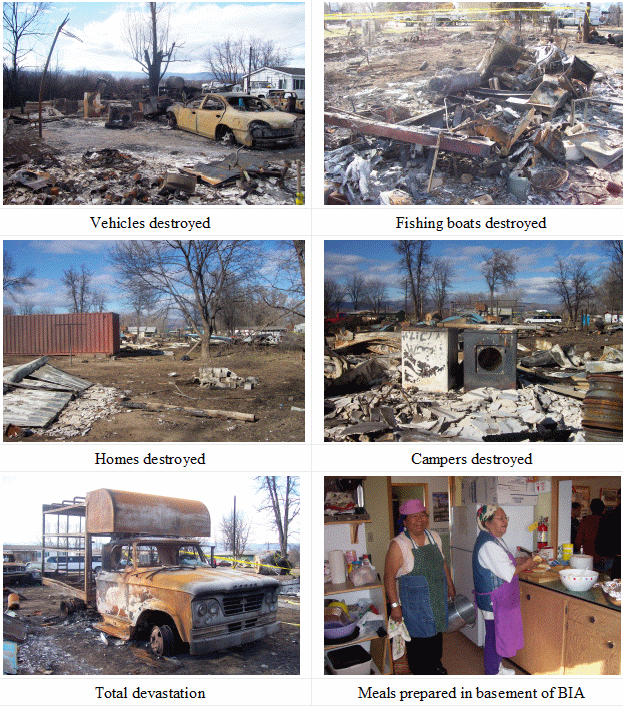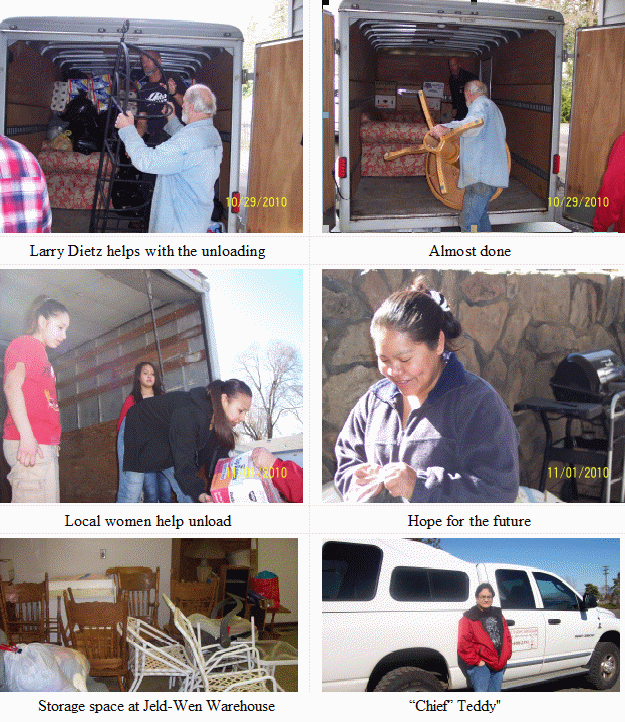 St. Ignatius, MT
After much waiting on the weather to clear, Les Phipps, Deborah Cline, and Bob King, finally met at Coast Trucking in Troutdale to make the trip to St. Ignatius, Montana. After a prayer for safe travel, they headed up the ol' ditch known as the Columbia Gorge with a tall and wide load. A gift from the little church with the big heart called Bridal Veil Community Church for use by Bernie Lovell, our point person on the Flathead Reservation. She had been using a small metal shed to store clothing for her ministry to needy people on the Rez, and it was pretty bent up so that the cats could get in it and, well, you know the rest of the story! This gift was a beautiful, 10' by 14' Tuff Shed model. It had a wider door than normal, a skylight, built in counters and shelves and a window. It normally sold for around $5000.00, but the little church got it for $2400.00. Praise God, what a miracle! Expecting a headwind going up the gorge, they were surprised to find only sunshine and calm. Even the Columbia River was like glass. What a miracle! Two men from Pine Haven, Mitch Camp and Elvan Lamb, and a neighbor, Jesse Porter came to move the shed into place and make sure it was level. What a gift they gave with their capable help at no charge and what a beautiful job they did! What a miracle! After it was securely in place, it was Deborah's privilege to give the keys to Bernie Lovell. When she looked inside, she said it was more that she had ever expected. What a miracle! God is so good and will always provide what we need, bless His holy name. Then it was time to leave Amish country and head home to Portland.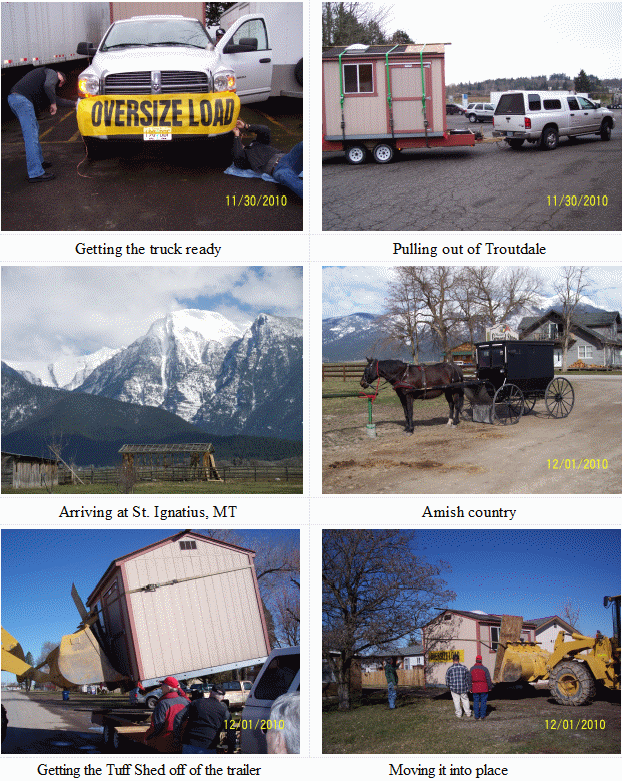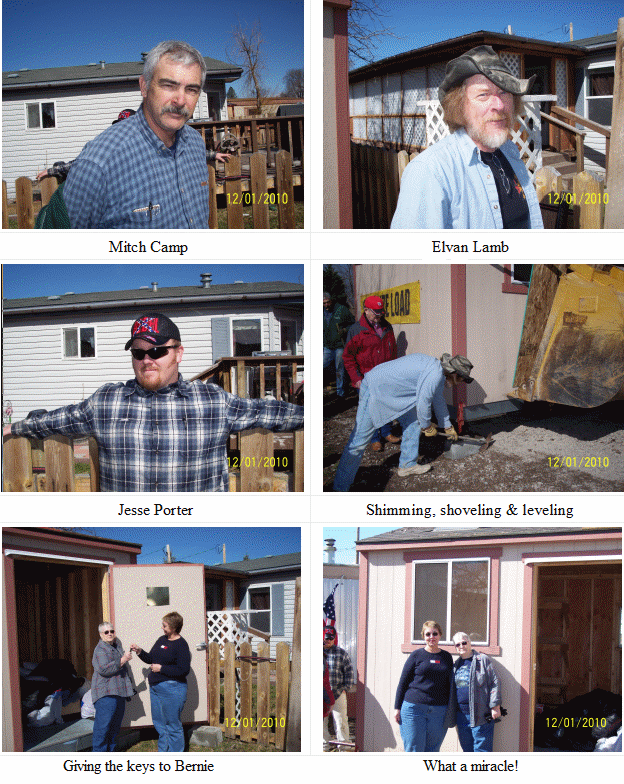 LIFE IS SHORT, DEATH IS SURE; SIN THE CAUSE, CHRIST THE CURE.
We hope you had a blessed Resurrection Day. I'd like to share a poem sent in by Lois Lee that tells it like it is.
It wasn't the nails holding Jesus that day
and it wasn't the soldiers that caused Him to stay.
It wasn't the nails through His hands and feet
That wouldn't allow our Lord to retreat.
His love held Him there, on the cross in my place,
An amazing display of His infinite grace.
As He paid the price for a life that prevails,
LOVE held Him there – it wasn't the nails.
THANK YOU, THANK YOU, THANK YOU!!
FOR YOUR SUPPORT OF OUR MINISTRY
Advanced Hearing Aids – Vancouver, WA

Amato Publications – Milwaukie, OR

Christian Book Shop – Oregon City, OR

Coast Trucking – Troutdale, OR

Expression Hair Design – Portland, OR

His Bakery – Oregon City, OR

H2O – Dalles, OR

Mitchell's Oil Field Service – Glendive, MT

Rick & Jan Lewis – Battle Ground, WA

RPF, Inc. – Baker, MT

Smith Chiropractic – Oregon City, OR

Tony's Smokehouse & Cannery – Oregon City, OR

Landscape Supply Co. – Oregon City, OR

Woodpecker Trucking – Pendleton, OR

RADIO BROADCAST TIMES

++++++++++++++++++

KPDQ 93.9 fm Mon-Fri at 6:15 PM

KPDQ 800 AM Mon-Fri at 6:00 PM

KGLE AM Sun at 2:06 PM in Montana

E Mail us at:

firstnaministry@qwestoffice.net

or visit our web site at:

www.firstnationministries.org