FIRST NATION MINISTRIES, INC.
P.O. Box 30055 Portland, OR 97294
Phone: (503) -408-2391 Fax: (503) 256-8560
Issue 7 Visits No.19, 20, 21
December 2007
Dear Teammates,
What a mighty God we serve! Nothing is impossible for Him; He is omnipotent. Praise His Holy name! But even more breathtaking is the fact that He knows all about each and everyone of us. He calls every star by name and rest assured, dear brothers and sisters, He knows all about each and everyone of us. Our strengths, our weaknesses, our joys, our sorrows, our victories, and our failings. He knows our every need whether it be material, physical, or spiritual. He is omniscient; He is with us all the time, everywhere, no matter what friend or foe may think or do! We are not alone. He has promised to be with us and He fulfills His promise. He is here with me and He is there with you. Glory be to our omnipresent God. Above all this He loves us. His love reaches to the highest star and to the lowest hell.
We praise and give Him all glory for giving us over and beyond our asking. Our goal for the first year was a trip a month. By His grace we will have twenty four. How we thank you for your prayers, support and labors!
Upon receiving direct calls from a number of Montana and North Dakota churches wanting to help with clothing and Christmas ministry, we conferred with Frontier Missions and bought a very nice 99 Western Star tractor and 95 Freuhauf 48 foot trailer to handle the job. What a wonderful big rig combination; we all praised God as David Gowan and Marvin Boettcher took out to deliver a 4 wheel drive Jeep pick-up to Pastor Ken Azure in eastern Montana and a Plymouth passenger van to the White Clay, Nebraska work.
Dave has been involved in ministry to Indians most of his life and has a successful Bible and Christian literature ministry as founder and director of America's Mission International.
At this same time Bob King and Leon Hansen and I took the well loaded Dodge Diesel and trailer and caught up with them at Ekalaka, Montana on Saturday, January 27th. Then together we ministered at Ekalaka Community Church, Plevna, MT Baptist Church, Scranton, ND Lutheran Church, Bowman, ND Assembly of God, and Hettinger, ND Assembly of God.
The big rig, now fully loaded, headed home and the Dodge wheeled on to South Dakota.
Your old missionary brother,
Don Cline
P.S. Another thank you for the many letters of appreciation for the poetry. I'll do it again here.
A COWBOY'S CHRISTMAS PRAYER
I ain't much good at prayin', and you may not know me, Lord--
I ain't much seen in churches where they preach Thy Holy Word,
But You may have observed me out here on the lonely plains,
A-lookin' after cattle, feelin' thankful when it rains;
Admirin' Thy great handiwork, the miracle of grass.
Aware of Thy kind Spirit in the way it comes to pass
That hired men on horseback and the livestock that we tend
Can look up at the stars at night and know we've got a Friend.
So here's ol' Christmas comin'on, remindin' us again
Of Him whose coming brought good will into the hearts of men.
A cowboy ain't no preacher, Lord, but if You'll hear my prayer,
I'll ask as good as we have got for all men everywhere.
Don't let no hearts be bitter, Lord; don't let no child be cold;
Make easy beds for them that's sick, and them that's weak and old.
Let kindness bless the trail we ride, no matter what we're after,
And sorter keep us on Your side, in tears as well as laughter.
I've seen old cows a-starvin', and it ain't no happy sight;
Please don't leave no one hungry, Lord, on Thy good Christmas night--
No man, no child, no woman, and no critter on four feet--
I'll aim to do my best to help you find 'em chuck to eat.
I'm just a sinful cowpoke, Lord--ain't got no business prayin'--
But still I hope You'll ketch a word or two of what I'm sayin'.
We speak of Merry Christmas, Lord--I reckon You'll agree
There ain't no Merry Christmas for nobody that ain't free.
So one thing more I'll ask You, Lord, just help us what You can
To save some seeds of freedom for the future sons of man!
---
---
MISSION VISIT No. 19
The last week of October three old brothers, Dave Gowan, Marv Boettcher, and Don Cline, prayed, planned, and put together Visits No. 19 and 20 to minister to Indians and missionaries in Montana, North Dakota, and South Dakota. For many years each fall we have made this circuit and the wonderful Pastors and their people collect clothing and a big variety of household items to enable us to better minister to the Indian reservations. Many of these needy people are enjoying stoves, beds, freezers, and refrigerators from this source as well as clothing and bedding. This necessitated having a big rig and we are most grateful to Frontier Missions for selling us one of theirs. The five churches fill it full from end to end and floor to ceiling. Dave and Marv praise God and thank you for your prayers; the roads were good! No snow! No putting on chains!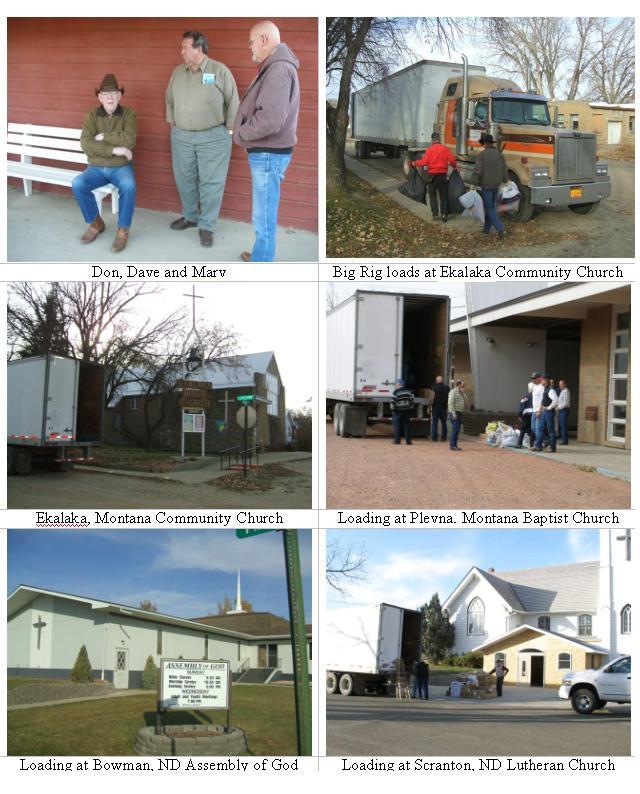 MISSION VISIT No. 20
How I wish you could have been along with Bob King, Leon Hansen, and me as we said goodbye to Marv Boettcher and Dave Gowan and rolled south out of Hettinger, North Dakota to the Pine Ridge Reservation in southern South Dakota. We carried greetings from NIBS where we had taken food and enjoyed their guest house for a night. The first stop was at Potato Creek, SD where Cindy Antelope has so faithfully ministered for some time now. We then swung west across the reservation to Wounded Knee and the nice little mission chapel where Cecelia Spotted Bear uses her ingenuity to be a blessing and win souls to Jesus! She had just finished a class teaching young Indians how to bake bread. Do you remember when "Mom" used to bake? The aroma was out of this world! Cecelia sat as we 3 men downed hot coffee, fresh bread, and choke cherry jam. We gave Bibles so they could give Indians the bread of life–God's Holy Word. The final visit took us on west to Oglala where Sister Kate Kindle has ministered for over 30 years.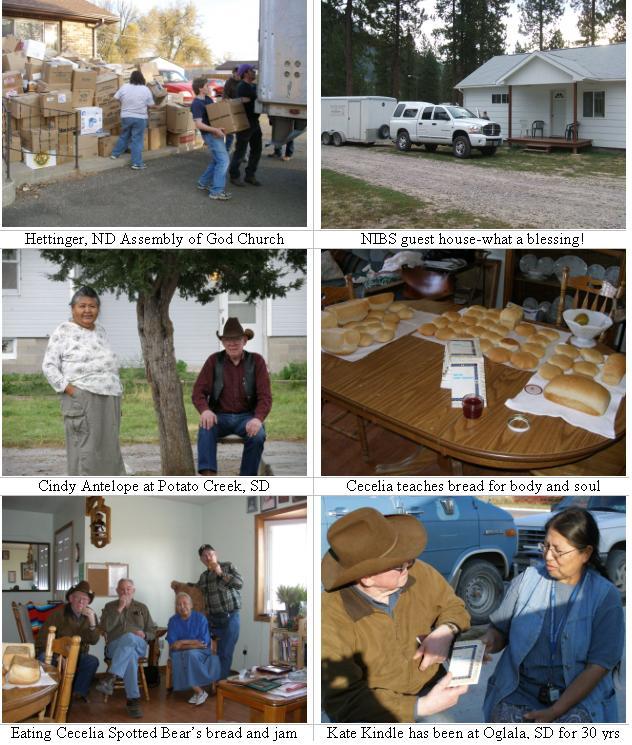 MISSION VISIT No.21
Once again we have had the joy of sharing life's blessing of food and household items with our friends at Celilo Village. Sister Karen Jim Whitford is our contact person who is doing a fine job of taking charge of the distribution to the fourteen families who make this their home. Many are descendents of families that have been the hub of this great salmon fishing village for thousands of years. Archaeologists have unearthed ancient camp sites that carbon dating determines were there long before white men invaded the land. We will have a wonderful Christmas load of presents gift-wrapped for every man, woman, and child, a lot of food, and a nice turkey for every family. It will be reported in your next newsletter. We don't feel to preach as yet, but rather to witness and explain God's wonderful gift for us all. Their questions are interesting, honest, and most encouraging. Pray for these dear Indian friends!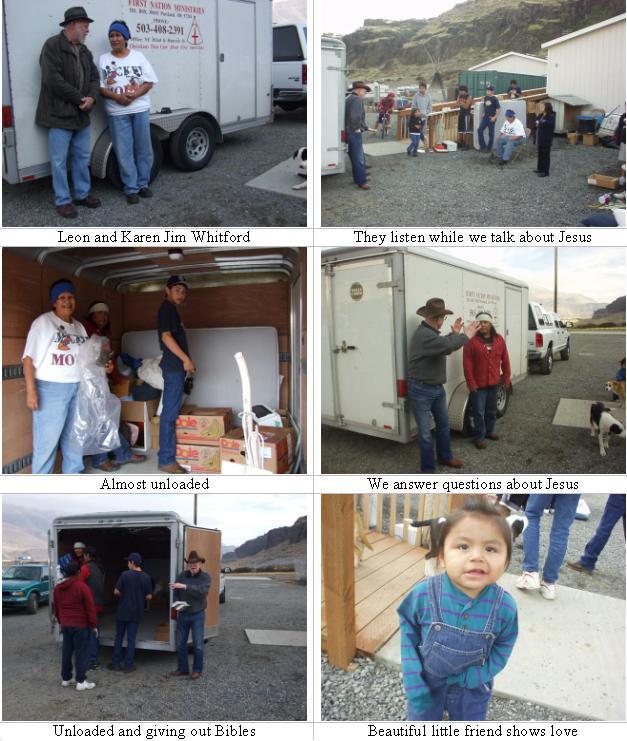 WE APPRECIATE YOU SO MUCH AND PRAY GOD TO BLESS YOU AND GIVE YOU AND YOURS A BLESSED CHRISTMAS