FIRST NATION MINISTRIES, INC.
P.O. Box 30055 Portland, OR 97294
Phone: (503) 408-2391 Fax: (503) 256-8560
Issue 9; Visits No. 25,26,27,28
April 2008
Dear Teammates,
These have been very busy days for your old missionary Brother and the team. There has been a great deal of praying, planning, and putting the pieces in place under God's hand and direction. I assure you we have not been lying around taking it easy.
We praise God for the doors He is opening to us and the growth of the team and the finances He is bringing to pass. Will you join your prayers with ours for more food? Feeding the hungry has been a great help in opening the heart doors of our Indian brothers and sisters. We have been blessed from our beginning many years ago with donated food from the large grocery chains such as Fred Meyer, Safeway, Albertsons, and others, but now these doors have closed. Salvage dealers are buying this food and reselling it to salvage stores putting huge profits in their own pockets. This has crowded out charities from a direct approach to the large store donations. We have had to pay from $8.00 to $14.00 per banana box for food which limits our food ministry. Bro. Les Phipps and his wife Shirley have been a big help in finding food and we praise God for their generous gifts and labors.
We need warehouse space and loading facilities as it seems that soon it will be necessary to use big trucks and trailers. We are grateful to Frontier Missions for selling us a fine 99 Western Star truck and 95 forty eight foot Freuhoff trailer. The last part of 2007 it made its first trip in visit No. 19. The insurance and permits are now expired and it will cost in excess of $5000.00 to renew them. We have the trailer fully loaded with clothing and many household items and pieces of furniture. Now that the winter blizzards and storm closed roads are about over, we hope to get this load to the Flathead Reservation. This door is wide open to us and they have asked us repeatedly for help. Pray God's help on us as we seek more earnestly to be faithful.
This report brings us up to date through March. We hope with our next newsletter for May to reach our projected goal of monthly reporting. We praise God for His wonderful help and thank you, dear Teammate, for your love, prayers, and support
Your old missionary brother,
Don Cline
---
Editor's Note: This was mailed to me by one of our Teammates. The following letter appeared on the internet and was viewed by many and used in other publications where our Teammate read it. I thought you might enjoy it as I did because this was the way it was in the Cline family!
DIFFERENT DRUG PROBLEM
THE OTHER DAY, SOMEONE AT A STORE IN OUR TOWN READ THAT A Methamphetamine lab had been found in an old farmhouse in the adjoining county and he asked me a rhetorical question, "Why didn't we have a drug problem when you and I were growing up?" I replied, I had a drug problem when I was young: I was drug to church on Sunday morning. I was drug to church for weddings and funerals. I was drug to family reunions and community socials no matter the weather. I was drug by my ears when I was disrespectful to adults. I was also drug to the woodshed when I disobeyed my parents, told a lie, brought home a bad report card, did not speak with respect, spoke ill of the teacher or the preacher, or if I didn't put forth my best effort in everything that was asked of me.
I was drug to the kitchen sink to have my mouth washed out with soap if I uttered a profanity. I was drug out to pull weeds in Mom's garden and flower beds, and cockleburs out of Dad's fields. I was drug to the homes of family, friends, and neighbors to help out some poor soul who had no one to mow the yard, repair the clothesline, or chop some firewood, and, if my Mother had ever known that I took a single dime as a tip for this kindness, she would have drug me back to the woodshed.
Those drugs are still in my veins and they affect my behavior in everything I do, say, or think. They are stronger than cocaine, crack, or heroin, and if today's children had this kind of drug problem, America would be a better place.
God bless the parents who drugged us!
---
MISSION VISIT #25
Very early Friday morning, Jan. 25th, Marvin left his home in Dallas, Oregon west of Salem and drove to the 7:00 AM prayer breakfast in Portland. After fervent prayers, sharing needs and victories, he joined Bob King and Don Cline in the loaded Dodge diesel and trailer and under God's blessing arrived at Celilo Indian Village ten miles east of The Dalles, Oregon to meet with and minister to our point people. These are the ones who coordinate our outreach to their people. Fourteen families still feel this is their place, privilege, and duty to stay on what they believe is Holy Ground. In the old days, many Indians from Oregon, Washington, and Idaho joined them for the bountiful harvest of fish during the salmon run. What a privilege for us to help and fellowship with these fine people. Karen Jim Whitford and her husband, Fred, are thanking Jesus and praising God as they and others open their doors and their hearts to us.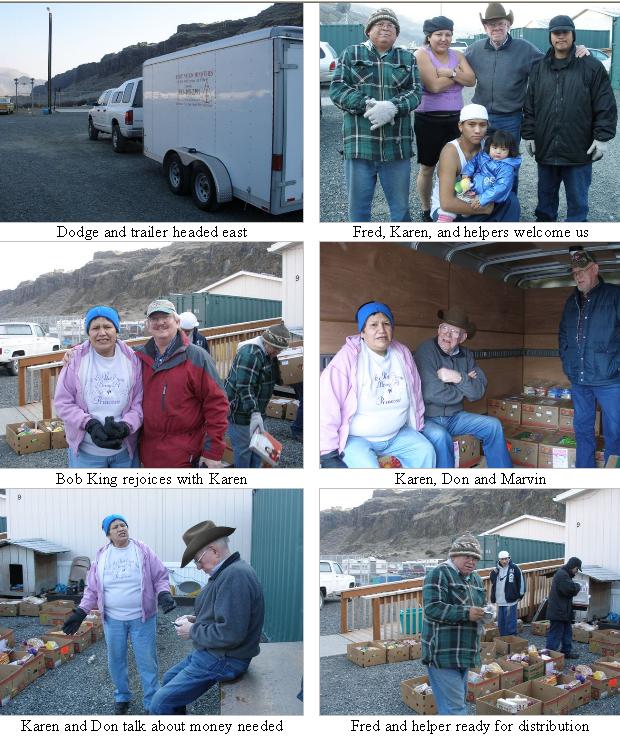 ---
MISSION VISIT No. 26
Friday morning, February 29th, broke bright and clear which caused us to praise God. Once again, that all important prayer band had their breakfast in the Club Estates East clubhouse. How thankful we are for teammates that still believe in the importance of joining in prayer to find and do God's bidding in the way He wants us to do it. The prayer band laid hands on the team and then Don Cline, Marvin Boettcher, and Bob King rolled east up the Columbia River Gorge, across eastern Washington and the panhandle of Idaho, and 78 miles into Montana. We arrived on the campus of NIBS with praise to God for helping us through the mountain snow without having to chain up. We arrived in time to minister, unload, and fellowship with them, then were their guests overnight. What a consecrated, committed team on the staff of this Bible School, which is indeed a "vine of God's planting".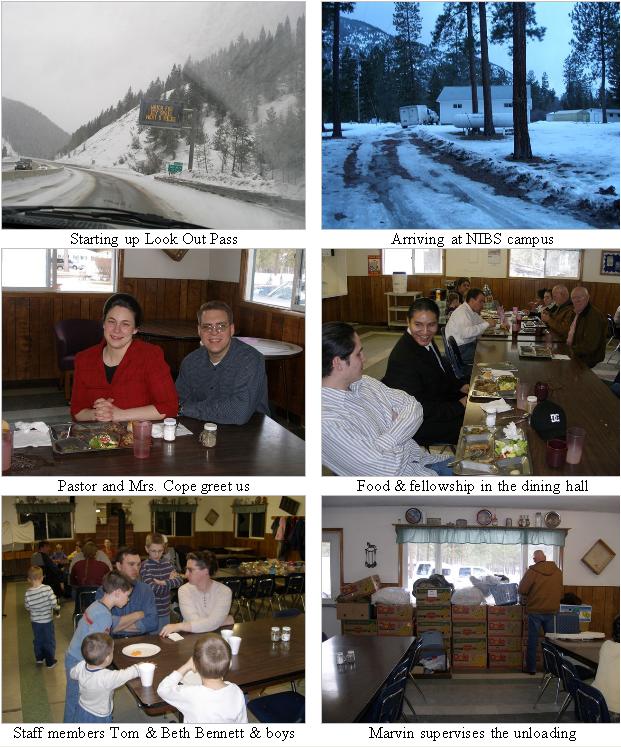 ---
MISSION VISIT No. 27
Our ministry at Ravalli, MT goes back many years as Rev. Bob Two Teeth and his wife Sherril Dormaier urged us to help the people they ministered to on the Flathead Reservation a little north of Missoula, MT. Bob and two fellow Indian preachers had heard our broadcast and decided to drive to Portland and visit us. Their old car broke down en route costing more that they had so they took a job washing dishes in a restaurant for a week and were able to proceed. Their earnestness struck a cord in our hearts and a relationship continues to this day. Bob and Sherril carried the food we brought to this reservation to many little mission chapels. Our first drop off point was at Arlee with Bro. James Steele as point man. Through the years we have helped many works and we thank God for his dedicated servants on the Flathead Reservation. God called Bro. Bob Two Teeth home, but Sherril continues to do all she can for the Indian people.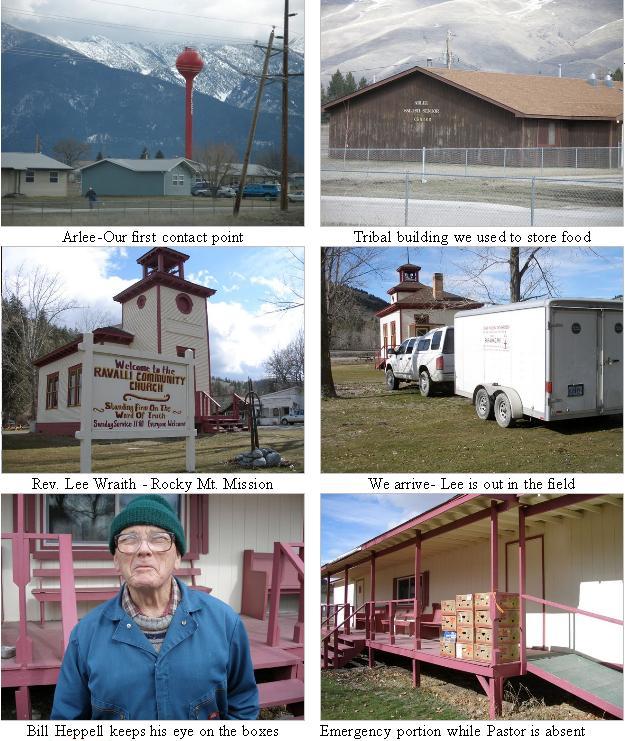 ---
MISSION VISIT No. 28
St. Ignatius is fast becoming one of our most exciting outreaches. After many years of fruitful endeavor with several different workers it suddenly changed at this village. As those of the "old school" passed on, there was a lack of leaders interested in our purpose. One white preacher from the east seemed to have control and informed us that the Indians didn't need used clothing. Then out of the blue, we received a phone call from Bernadine Lovell who cried and said, "These people are hurting; they need your help!" She had found an old store building to use and promised her best help if we would come with the simple message of how to meet the creator and have sins forgiven. Now she has the use of the St. Ignatius Community Center. This handmaiden of the Lord declares she is not a preacher, but we see she is most successful in helping meet their physical needs and pointing them to Jesus. What an honor to work with her!